App Icons - Modern Trademarks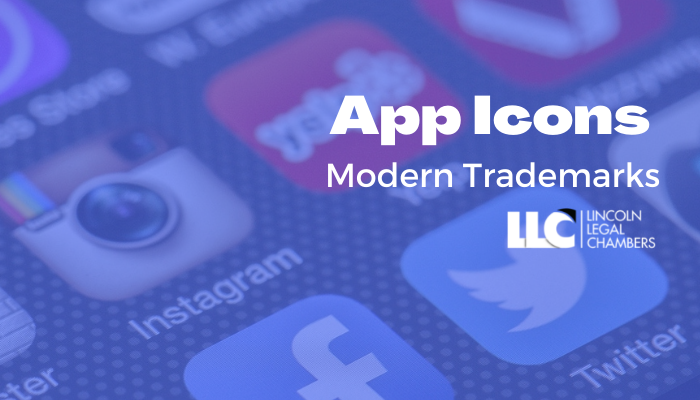 ---
Authors: M. Hossain, Founder, LLC & Reshmi Hossain, IP & Commercial Law Specialist, LLC
---
Mobile App Icons & Trademarks
Smartphones and Internet connectivity have completely transformed the way we choose to communicate in the contemporary world. With Internet service providers offering blazing download speeds and widespread connectivity and the mobile network companies developing 4G and 5G solutions, the transition in the mobile technology has been rapid and continues to play a crucial catalyst in modern communications. As mobile phone hardware has evolved over the last ten to fifteen years, so has the software solutions surrounding mobile telephony and desktop applications. A modern user can hardly function without the tons of applications available on their phones, iPads and desktops, whether an Apple user using the App Store or an Android user accessing the Play Store.
In the deep polychrome sea of applications offering diverse functions and equally diverse app icons, the app icon is the first visual cue that is offered to the consumers in the app store catalogue and thus plays a fundamental role in setting an application apart from its contenders. The icon controls the association of brand identity in many ways stemming largely from being uniquely memorable.
We generally identify known apps like an Instagram, LinkedIn or Google Maps through mere visualization of the icon by associating the image with the corresponding company and not by reading into them in detail. In other words, these icons have a distinctive function, so can they be registered as trademarks? On the mere basis that a trademark is a sign that makes it possible to differentiate and distinguish the goods or services of one company from another, the answer is: yes.
App icons echo the function that trademarks fulfil towards brands. Trademark in the form of a word mark or device mark is a discernible sign or logo of a brand that distinguishes the goods or services of a particular source from others. Further, marks also have monetary value based on the goodwill created and the trust consumers have in them. Therefore, there is a need for app icons that are yet to be registered as trademarks, to seek formal registration just like a brand would normally seek for its word mark or device mark.
This written piece explores the scope of app /application icons and why they ought to be treated as being equally important like a brand's word mark or device mark /logo.
Some of the world's biggest brands today have Trademark Portfolio that could easily be worth billions of dollars and their net worth is primarily reliant on the value of their intangible assets in the market. Additionally, in the times we live in, surrounded by technologies that are evolving on a regular basis, brands should not forget something as basic as the app icon since registering the icon as a trademark is as important as registering the brand logo especially for application service providers.
Trademarks are represented by words, phrases, slogans, symbols, logos, or images, most of which could be transitioned into an app icon. Such icon, on being registered as a trademark, retains exclusivity and prevents similarly designed icons from being used by competitors to divert user base or traffic or counterfeiters from abusing the mark to orchestrate fraud and steal consumer information.
Examination of domestic trademark registers will show that relatively few app owners have registered their icons and whether the reasons stem from an oversight, false assumption or unfamiliarity rooted to the notion that registering only the name of the app provides exclusivity, is hard to pin point. However, it is crucial to spread awareness about such unregistered app icons being Intellectual property (IP) and therefore the main assets of an online company in the digital economy. With unprecedented times following the pandemic and affecting businesses at large and further warranting businesses to garner their online presence and digitize their branding, such protection is well worth the investment.
Questions related to registrability of App Icons
It is advisable for brands to not fall into the 'initial-trap'. When brand names are often too long to incorporate within an icon, such limited space can act as a constraint and while the easiest solution is to use the first letter of the brand in the specific font or style, such route is only understandable for brands with an existing brand awareness like - "M" for mail, "F" for Facebook, or "N" for Netflix. However, using such excessively simplified or abstract graphics could be refused for nascent brands due to its general, decorative or functional character (i.e., a generic calculator icon for a calculator application or a camera icon for a camera application). Trademark offices in many countries refuse trademarks for single letters, as it is likely that among the million existing apps, many already pre-date a brand's initials.
It must be borne in mind that, as more trademark applications for mobile app icons are approved for registration, the trademark offices will soon be operating with only limited letters and limited descriptive designs available. As a result, fewer approvals and more refusals for trademark applications of app icons may follow to prevent infringement of the rights of existing trademark owners. A trademark even in the case of an app icon must be distinctive in order to serve its purpose as a trade or commercial identifier.
What Makes an App Icon a Good Trademark?
App designers should consider icons or word marks that are suggestive, arbitrary, or fanciful and pair them with a distinctive icon or logo, while taking precautions to ensure that their marks do not infringe those of third parties, to increase their chance of success in obtaining registrations. In addition, app designers should be aware of the global nature of the market and determine their goals in line with international trademark protection.
For the app icon to be a strong trademark, the logo (device mark) and app name (word mark) should be searched in appropriate databases for clearance. An availability search will reveal any similar third-party trademarks that may pose a potential legal risk in the form of objections or expensive litigations which in turn may lead to expensive changes later on. Brand owners should also check for other potential IP issues like official signs that are often regulated i.e., country flags, Red Cross logo among others.
It is advisable to use distinctive colours as powerful identifiers that aid logos to stand apart. Some colours though, have become common identifiers for a particular category of marks, hence using different colours will thus guarantee an enhanced distinctiveness.
An icon that contains elements describing the activities of the company – otherwise generic, may be unable to set itself apart from its competitors and hence would be a weak trademark. However, many marketers believe such descriptive icons can help guide consumers, for instance WhatsApp, Weather Pro, Apple Music among many others. It is not the case that descriptive icons cannot function as trademarks as testified by WhatsApp itself, but it must be recognised that only a handful of well established brands with substantial consumer market and reputation and goodwill could claim acquired distinctiveness. Apart from the issue of distinctiveness, it is also unlikely to secure a trademark over a descriptive icon as it grants an unjustified monopoly to a single market player which could lead to unfair competition.
For brands that develop a stand-alone digitized e-commerce branding, it can be plausible to use the company logo itself wherever suitable and adopt it as an app icon. In doing so, it allows one to capitalise on accrued reputation, consolidate existing rights and avoid new trademark filings.
Brands often revamp their look by launching newer updated versions of their logos like renowned brands of the likes of Instagram - from a brown and beige Polaroid-type camera to the modernized icon in purple pink and orange colours, or even Uber that has changed its branding around five times in a span of nine years. However, frequent changing of the design of a registered app icon may result in the loss of rights. It is therefore advisable to stick to the original app icon in the same way companies remain faithful to their brand logos.
Issues of Territoriality & Madrid Protocol
Applications by their nature transcend traditional territorial limitations upon release. An app created by a person in a remote corner of the world has the potential to become the most popular app, downloaded by hundreds of thousands of people around the globe. It is true that sometimes apps released in a specific app market may be restricted geographically to certain location's App Store and Play Store. But more often than not the mobile apps are released globally in multiple jurisdictions which opens the concerns of territorial limitations in terms of protection.
It needs to be noted that registration of a trademark only allows the owner of the mark the exclusive right to use the mark in the territory in which the mark is registered. A registered trademark in a particular country only obtains rights in that country, and not worldwide. It is therefore prudent to have a brand's app icon registered as a trademark in all territories of the targeted user base. With many countries having acceded to the Madrid Protocol, it is possible to register app icons in the origin country followed with international registrations through the Madrid route in every relevant geographical market to expand the scope of trademark protection. Obviously with the Madrid route, there are a few challenges like the 'central attack' in which case if the origin country trademark registration application is unsuccessful or overturned within 5 years, the follow up international registrations would also fail. Therefore, it is crucial for brand owners to do a thorough search in the origin market while doing their trademark applications to ensure they are successful in the origin country and in turn would prevent the application from being scathed by the central attack. With the Madrid route, it would also be required to search trademark databases for each and every signatory country where the brand wishes to expand its protection.
Conclusion
Surprisingly in practice, at least so far, not too many application owners have applied for the registration of their icons but one must bear in mind that it is only registration that guarantees the exclusivity and real protection of the app icon as a trademark.
The crux of the matter is to always look for the right IP strategy for brands and, above all, to adapt to the new changes. With the number of apps being developed daily on the rise, we can expect to see more lookalike icons in the global application stores whether App Store or Play Store. Hence, it would be wise to obtain proper trademark protection for app icons by having them registered as trademarks in the relevant countries.
Having worked with various national and cross-border brands to register their trademarks in the form of both device and word marks including app icons, it can be said from experience that brands are gradually gaining perspective that registering app icons as trademarks will enable them to garner a legally sound and strong foothold in any jurisdiction to oust counterfeit apps and prevent fraud or erosion of brand value.
---
Authors:
M. Hossain
Founder & Group Head - India Practice, Lincoln Legal Chambers
BA Law (Joint Hons.), PG Cert. (Merit) International IP Laws (UK)
PG Diploma (Merit) Commercial & Corporate Laws (UK)
LLM (Merit) Computer & Communications Law (University of London)
Reshmi Hossain
IP & Commercial Law Specialist - India Practice, Lincoln Legal Chambers
BA LLB (Hons.), LLM (Distinction), City, University of London
Awarded City Law School Prize in International IP Law & Policy